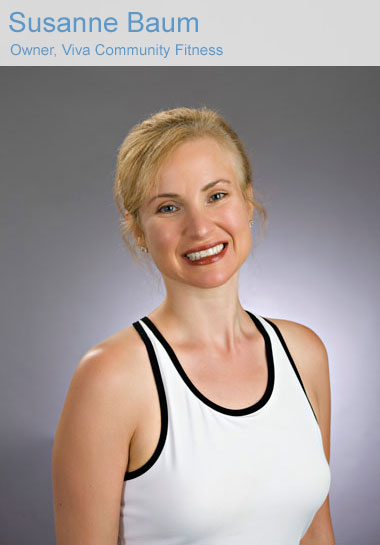 About Us
Susanne Baum, the founder and owner of Viva Community wanted to change the impact of the many health issues related to our sedentary lifestyle. At the same time, she was committed to all Americans reclaiming their pride and belonging in their cities and towns. In 2004, her dream to bring affordable fun fitness to everyone began to take shape into a unique fitness program of running classes in partnership with local parks and recreation departments and hospitals across America. When she partnered with Evesham Township in Marlton, NJ, Viva Community Fitness was born.
This idea was so unique because in 2004 most exercise classes were taught at a gym or private studio that had either high prices, membership fees or long term contracts. Viva Community Fitness created a win-win everyone; for the students get fit minutes from their homes along with their neighbors, teachers get a top salary to teach in their neighborhoods and the towns and hospitals make money on space that is otherwise sitting idle. Plus the towns and hospitals use this income to pay for community jobs (such as the janitor that cleans the space or staff that takes the registrations) and/or to fund community programs.
Americans who wanted affordable, fun and come as you are fitness classes within 3 miles of their homes and no membership fees or contracts; began to flock to Viva Community Fitness classes. To date, Viva Community Fitness partners with 25 towns and hospitals in NJ and the Philadelphia suburbs, contracts with over 60 instructors and energizes the lives of over 500 students a week. And we have raised over $400,000 for the various communities we partner with.
We're knocking on each town's door, throughout the USA, asking them to join our quest to improve the health and fitness of each American as well as reclaim the pride and vitality of our communities. Our goal is to open 10 new sites every year until every American has access to community fitness in their neighborhood.
Listen to Susanne Baum's recent interview about Community Fitness on Q102